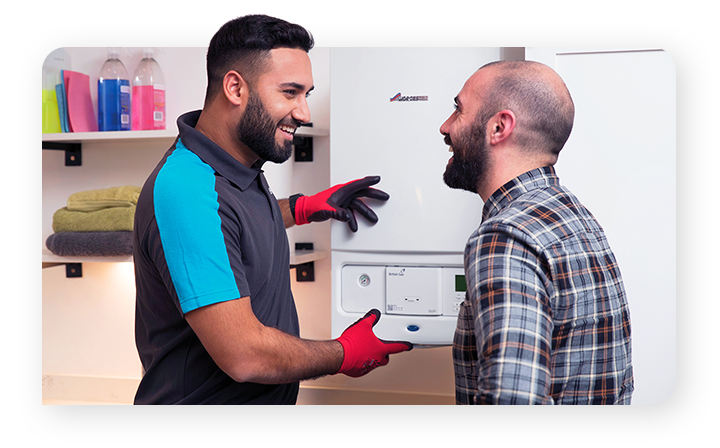 Fault detection
British Gas and Hive have a range of services to help give you peace of mind
Smart services that help you stay one step ahead
Peace of mindOur sensors monitor your boiler and mains water to check for issues like boiler failure and potential leaks.


ConvenienceIf we see that your boiler has stopped working or think you might have a leak, we'll let you know so you can get things sorted as quickly as possible under your HomeCare plan or Warranty.


Prepared engineers They'll be able to see the data from your boiler before they arrive to help understand what may be wrong and have the right parts ready.
Fault detection services
Boiler IQ - from £69
Boiler IQ is a clever little device that keeps an eye on your boiler and tells us when it stops working. That way, we can help you get it fixed as soon as possible so you don't get left in the cold this winter.
Hive Leak Plan - from £3.99 per month
Stop little drips from becoming big problems with the Hive Leak Plan. Hive Leak Sensors can detect if there's an unusual amount of water flowing around your home - which could mean you've got a leak. It then sends a message to your phone to let you know and if needed, can even help you find a plumber.
Frequently asked questions
How long does the Hive Leak Plan installation take?
Hive Leak Sensor is very quick to install. You just need to clip it to the 'home' side of your stop tap and before any branches on the mains water pipe. For full installation details please visit Hive.
How long does it take to install Boiler IQ?
Our British Gas engineers will install a small app either inside or alongside your boiler which typically takes around 30 minutes, but in some cases requires an hour.
How secure is smart home technology from British Gas and Hive?
British Gas and Hive have strict security measures in place to protect your personal information and access to your system, including robust procedures and using industry standard SSL encryption. 
Have an issue with your Hive Leak Plan?
Please visit Hive for any additional support required.
Other products in our range