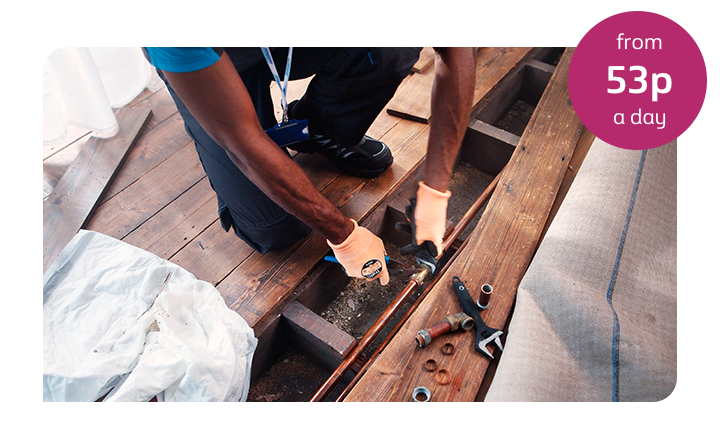 Landlord home and boiler cover
If things go wrong our landlord cover can be a real life saver
Worried about your boiler playing up?
Get one month free when you buy HomeCare Two, Three or Four online.
Hurry! Offer ends 9th March 2020.[5]
Get HomeCare cover with a Gas Safety Certificate
Our range of Landlords products can help keep your tenants' home warm and working.
We can take care of your Gas Safety Certificate, boiler, central heating, plumbing, drains or home electrics. For 10 or more properties, find out more.

The prices below are the prices if you choose £60 excess.[4]
Some important documents to read

Get a Gas Safety Check and Certificate for your rental property
A Gas Safety Check and Certificate that only covers your boiler, but you can add additional appliance checks to your inspection from £24 more.
Our Gas Safe Registered engineer will assess your boiler to help ensure you remain compliant with current legislation, plus you benefit from online access to your Gas Safety Certificate and receive annual reminders. 
Get an Electrical Installation Condition Report (EICR)
An EICR is for people whose rented property needs a full electrical inspection or for people who rent to the council. And it's now a legal requirement if you're a landlord in Scotland.
A safety inspection of a sample of all accessible mains connected electrical wiring and electrical fixtures including the fuse box. 
A condition report which will contain details of the inspection and any remedial work which needs to be carried out.
Frequently asked questions
What happens to my renewal price after the first year?
The price you'll pay at renewal is likely to increase as your introductory price will have ended, but it will be tailored to your specific details. If you're paying by direct debit, you will automatically renew, however you can still choose to change or cancel your contract, we'll contact you before your renewal date to remind you.
Can I control my account online?
Yes, with an online account you can arrange a service visit, find out what's happening with your appointment, submit a meter reading and book an engineer. We've even got a free smartphone app.
What does an annual service include?
This is a visit we carry out in each contract year[1] to check your boiler and central heating system or gas appliance (depending on what is included in your agreement) are safe and working correctly.
Can I speak to someone if I have a question about buying HomeCare?
You can call us on 0333 202 9633 Monday to Friday: 8am - 8pm, Saturday 8am - 6pm. We may record calls to help improve our service to you. Calls to 0330/0333 numbers will cost you no more than 01 or 02 numbers from landlines or mobiles. If you get 'inclusive minutes' with your package, calls to 0330/0333 numbers will be part of these.

Do you provide service plans for businesses?
Yes, if you are a business customer, please visit our business website for details.


British Gas is a trading name of British Gas Services Limited which is authorised and regulated by the Financial Conduct Authority. Registered in England and Wales (No. 03141243). Registered office: Millstream, Maidenhead Road, Windsor, Berkshire SL4 5GD.
Your annual services may be more than 12 months apart.

Price varies depending on number of bedrooms. Price subject to change. Terms & conditions apply..

Where you live affects the price of this product.

Price available to new customers for the first year (paying by Direct Debit). Price subject to change. Terms & conditions apply.

This offer is available to new British Gas customers and existing British Gas energy customers who buy HomeCare Two, Three or Four online between 25th February and 9th March 2020. It is not available with any other offer or promotion and is available for the first year only. You may not eligible for one month free if you have had a HomeCare product with similar features in the last three months or more than once in the last three years. This offer isn't available to HomeCare One, Multi-Premise Landlords, and existing HomeCare customers.